Feedback Piano I-XI
Prepared piano and software
Ambient feedback installations which use the strings of a piano extend the apparent resonance of a space.  Featured on MakeTV episode 109 and the NWEAMO Festival.
Yearlong installation at San Diego State University's Electronic Music Studios allowed remote collaborators around the world to use the Feedback Piano as an impossibly rich reverberator via Internet2.
---
---
The Omni-Audible Time Expansion Engine
Parabolic dishes, transducers, and software
Behold, a time machine powered entirely by sound! The louder the sounds we make while inside this time machine, the slower we will pass through time.  At the tops of our voices we find we can bring time to a near standstill.
Flat Earth @ WSOHOIDPS (A SHIP IN THE WOODS), Escondido, CA. September 25 – November 19th 2016
Photo by Paul W. Koester
---
---
LOW: The Power & Beauty of Bass
Interactive media, video
A collection of interactive and video works which explore the low end of the audio spectrum:
Seeing Sound – visualizing bass waves using water
Tactile Bass – witnessing the transition from heard to felt vibrations
Chladni Patterns – interactive visualization of vibrational modes
Basso Profondo – lowering voices to contrabass range
NAMM's Museum of Making Music, Carlsbad, CA. November 8, 2015 – July 31, 2016.
---
---
Time Afloat with Lance Austin Olsen and Roberto Romero Molina
Lexan, broken cell phones, wine bottles
Three artists from different North American countries (USA, Mexico, Canada) converge to create a meditation on our (lack of) communication with our island neighbor.
Havana Biennial, Havana, Cuba. May 22 – June 22, 2015.
---
---
Elasticized, Duro-Reverberant Air
Phase-aligned air using the Duroverb process
A mysterious hallway where the air has been reconfigured to respond to sounds in unlikely ways.
Ephemeral Objects @ San Diego Art Institute, San Diego, CA. August 29 – September 27, 2015.
---
---

Imaginary Acoustics
Transducers and software
Acoustics has immutable rules. This is a reimagining of what these rules could be, a sonic sculpture which captures sounds and transforms them in unexpected ways.
Transduction @ Canvas Gallery, San Diego, CA. January 10 – February 8, 2015.
---
---
The Echo of the Conch
Transducers, slinkys, and software
An enormous spiral web of Slinkys transforms an entire apartment into a conch-shaped spring reverb.  Just as a seashell held to the ear creates a chimerical ocean by resonating ambient noises, any sounds created by the occupants of this conch are sustained in time, hanging in the air until slowly broken down into a chorus of shimmering chirps.
Solo installation at Mariposa Arts Space, Colonia Federal, Tijuana, BC.  March 2012.
---
---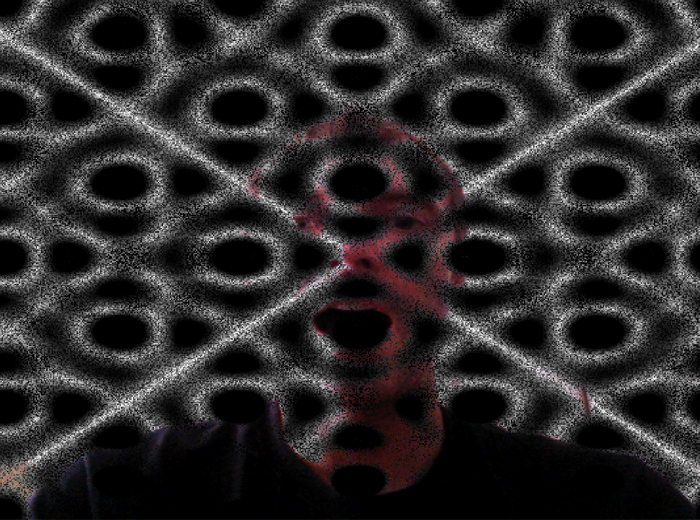 Modal Mirror
Software
Chladni patterns (vibrational modes) modulate the reflection of the viewer with their own voice.
Black & White Invitational @ Studio C Contemporary, El Cajon, CA.  March 6 – April 28, 2012.
---
---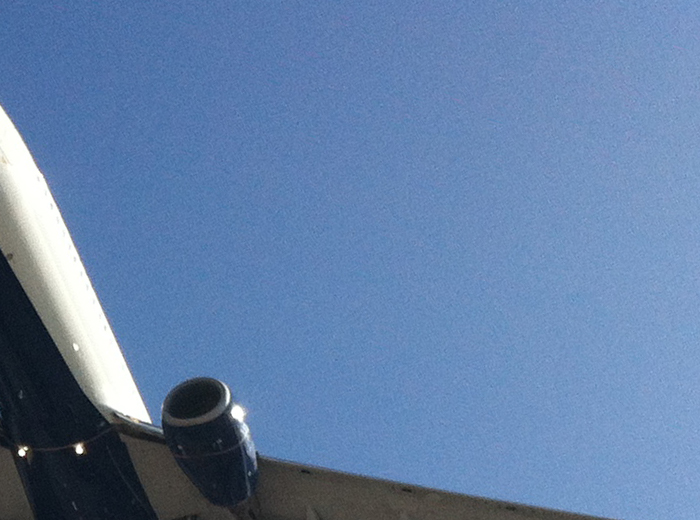 Music for Flight Paths
Tuned bass and subsonic resonators, low-flying aircraft, and software
An inversion of Brian Eno's iconic ambient work where sounds become overwhelming and invasive. Installed in Jett Gallery, directly beneath the approach path to SAN, just a thousand feet from the runway. Tuned resonators create forceful bass and subsonic standing waves each time a jet passes overhead.
Outside-In show @ Jett Gallery, San Diego, CA.  January and February, 2011.